VAST is now available for viewers who are unable to receive adequate terrestrial reception in Mildura/Sunraysia, regional South Australia, Broken Hill and regional Victoria. VAST is also available to viewers in the remote central eastern Australia (RCEA) licence area, and to viewers who are authorised to receive the current Aurora service as an out-of-area service.
The VAST service provides the same number of television channels that are available in capital cities. It will feature channels carrying programs sourced from Southern Cross Seven, Imparja Nine and the Ten network, and the main national broadcaster services, ABC1 and SBS ONE, together with digital SD channels; ABC2, ABC3, SBS TWO, 7TWO, GO! and Eleven, and the high definition channels; ABC News 24 HD, SBS HD, 7mate (Seven HD), GEM (Nine HD), and ONE HD (Ten HD).
The VAST service will also provide viewers with access to the local regional news services currently broadcast by the commercial broadcasters in their relevant terrestrial licence areas. These services will be provided through a dedicated news channel. In addition, the news services of the national broadcasters, the ABC and the SBS, will also be provided. ABC news will be provided on a state basis and through the ABC's 24 hour news channel.
75cm Satellite Dish Vast Setup for Caravans $650.00 or from $850.00 for home installation.
Satellite Vast Set-Up for mobile installations include: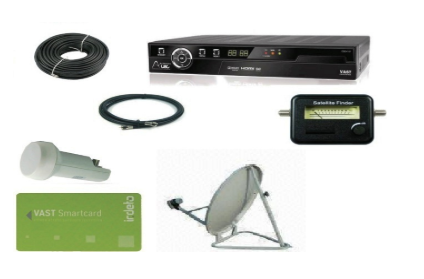 ◾75cm Free standing satellite dish.
◾10700 KU Band LNBF.
◾10M of RG6 Quad Shield Coax Cable with F-Type Plugs for Satellite.
◾1.5M of RG6 Quad Shield Coax Cable with F-Type Plugs for Testing.
◾SF95 Satellite Finder.
◾DVBS2-800CA VAST Certified Receiver and smart card.
◾Installation Instructions and Satellite finder procedure.
The card is not activated when the kit is purchased. It can be activated by applying to VAST for a travelers permit. The permit lasts 6 months and is to allow you to watch the VAST channels while traveling in remote areas where no terrestrial signal is available. There is no charge for this activation, and after the 6 month permit expires you can re-apply for another 6 months if you are still traveling.
For an extra $50 we will activate the card for you, assemble and program the receiver and Satellite Dish and give you a hands on demonstration on how to find the satellite fast! With out instructions it will on take you 5 minutes and you are set to watch TV.
International TV Reception

C Band Satellite Dish (2.4Mtr) full installation from $750.00 to receive international TV Services
Free to air international services, Spanish, Italian, French, Russian, German, Portuguese, Chinese, Indian, You name it and it's up there!
The complete installation will include:
◾The Satellite Dish (2.4Mtr) and mount hardware.
◾Cabling to the Satellite Receiver.
◾The Satellite Receiver with it's remote control.
◾Instructions on how to use the system and it's features.
The system can be installed with a motorised tracking system, meaning that if you intend to receive TV stations from different satellites, the dish will automatically position itself to the relevant satellite. This is for free to air transmission, no monthly fees and the equipment is yours! 12 months warranty.

Christian TV is free to watch
Over 12 Christian channels are free-to-air. This means Christian satellite TV is not like Foxtel or Optus where you need to pay to watch the programs. To watch Christian TV all you need is a small dish, a set top box (a few other bits and pieces in between) and some technical skill.
One of our friendly technicians will install a small dish (65-80cm) on your roof, professionally run a cable to a wall plate and then connect it to the satellite set top box that we supply.
All the above from only $450.00 even less if you have installed an unused Foxtel Satellite dish.