6/12/2018
WORKERS at the Maroochydore business complex that was destroyed by a massive fire on Friday morning watched on as firefighters salvaged what they could. The complex at Trinder Ave was well alight just after 2am, with firefighters battling the blaze until early afternoon.
Acting Maroochydore Area Commander Geoff Hunter said smoke and flames were billowing from the building when crews arrived.
"We've had 37 firefighters on scene and police have evacuated three houses at the rear of the building in case of smoke travel
& structural collapse," he said.
"With the heat inside, there was always that possibility that the building may suffer structural collapse.
"Just on daylight the wind picked up ... increased the fire volume again."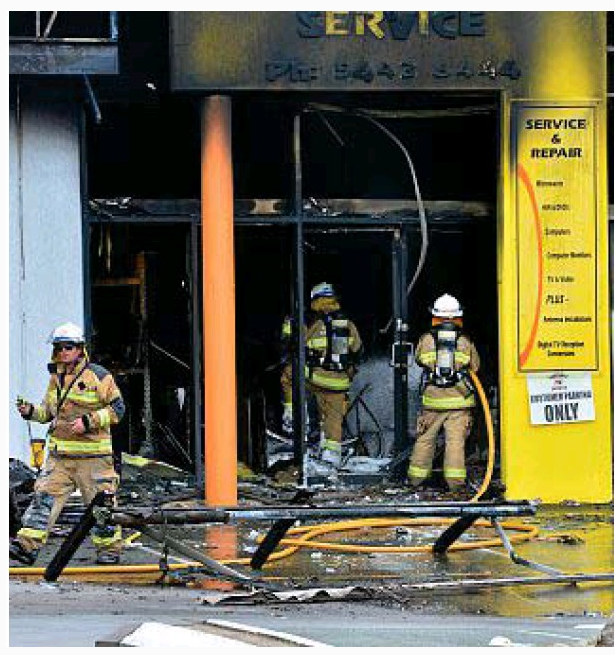 A Queensland Fire and Emergency Services spokesman said the flames were under control by about 4.05am, but crews stayed for hours to dampen down hot spots. "That's quite a long time fighting fires," he said. Witnesses reported the owner of Sunland TV Service, which was most affected by the fire, was extremely upset by the situation. He reportedly attempted to gain access to his store, having to be escorted away by firefighters. "He came here and he looked quite devastated, and he was escorted away from the scene," Mr Hunter said.
"Obviously he wanted to get close to it, which he couldn't do in case he got injured. "He was quite upset." The TV repair store and a hydraulics centre were completely gutted in the fire, and the adjoining St Vincent de Paul centre was extremely damaged. A Vinnies staffer was too emotional to speak publicly about the incident, but her husband, Aubrey, said the loss was devastating, especially at Christmas time.
Aubrey was watching the news about 6.30am and recognised his wife's workplace instantly. The couple rushed to Trinder Ave to find a chaotic scene with more than 30 firefighters, police officers, paramedics and the media. "The fire was out by the time I got here," he said.
"(Firefighters) have done a great job putting the fires out." Aubrey was worried that a number of food hampers inside
the Vinnies office had been destroyed in the fire. "They've got food hampers inside for people in need over the Christmas break," he said.
"People work hard and try to help other people, and for this to happen is very sad. "I know there's a lot of people in need."
He stressed that Vinnies would need extra support so they could continue to help as many people as possible in the community.
"Just keep supporting Vinnies, because they help a lot of people," he said. "Hopefully everything will work out."
Aubrey said it would be a long road ahead for the businesses to rebuild everything that was lost in the flames.
"They have a lot of clothes and furniture for people in need," he said.
"Hopefully not many (people) will miss out. I think the food hampers will be safe."
The fire investigation unit attended, but an engineer deemed the building too unsafe to enter, a QFES spokesman said.
Crews had left the scene by about 12.30pm. Investigators will return next week, once the building is safe, to determine the cause of the fire.
At this stage, a Queensland Police spokesman said the cause of the blaze was unknown.
Sunland TV Service
Dec 11, 2018
Four days after the fire! I would like to thank all of you that have offered overwhelming support, an acquaintance even offered temporary premises in Maroochydore free of charge. We are up and running from our Caloundra store and the Noosa store.
Thanks to Brett Collins as he managed to rebuilt our server and have it up and running within two days and little sleep.
Now commences the unenviable task of calling all the customers to inform them if their unit survived. Unfortunately there are only ashes left .Our insurance has given us instruction on how to proceed .
I would like to thank also all our customers for their continuous support.
As we don't have a drop point at Maroochydore, we are currently offering FREE pick up for all repairs. Our contacts and phone number is still the same ,07 54436444. Regards Nando
12/5/2019

I am very pleased to announce that thanks to the support of the Sunshine Coast community, we are thriving! Like always mostly due to the commitment of our staff, working hard to make sure that all the customers receive the best possible service and advice.
Recently we were informed by a marketing company that our competition had gained more stars on Google Review than us. The same organization then suggested that for a fee we can purchase additional five stars ratings, as many as we want as often as we want.
I am proud to say that this offer was refused. I don't believe that customers should be misinformed.
Our current status is real and from now on when I see a company with 5 star ratings there is a probability it is fake, as no one can please all customers 100% of the time.
Having said that, if we have not fulfilled your expectation, I encourage you to please contact us immediately.
A negative post on Google will not fix your complaint, however a simple phone call to our friendly staff will ensure your concerns are dealt with.
The Director of Sunland TV Service